CHEER Visit to Japan

CHEER Team: Professor Louise Morley; Dr. Mariam Attia; Paul Roberts (Assistant Director of the Doctoral School); Yasser Kosbar (doctoral scholar)Date: 4 June ~ 16 June 2018

Purpose:Data collection

Focus:Exploring the Internationalisation of Higher Education in Japan: Supporting Doctoral Researchers and Migrant Academics to Thrive in their New Contexts and Communities.

Aims:
1. To gather data with international doctoral researchers and incoming migrant academics about their experiences of internationalisation, with particular reference to issues of wellbeing e.g. what enables them to thrive?
2. To exchange knowledge with partners about best practices for supporting wellbeing of international staff and doctoral researchers e.g. the HEIM Training Module, seminars/ presentations on the hidden narratives of internationalisation (feedback from the 2017 visit); coaching in HE etc.

Tokyo Visit and Shimane University and Kansai Gaidai University Visit

Tokyo

Date
Interview
Venue
Interviewer
4 June
Professor Gracia LIU-FARRER
Franck Michelin,
Waseda University
Teikyo University

LM
LM

5 June
Paul and Yasser
Visiting University Agents
PR/YK
5 June
Annette Bradford
PR/YK
PR/YK
5 June
Yuan-Ning Chu
Waseda University
MA
6 June
Hiroshi Ota
Patricia Katrina Fernandez
Hitotsubashi University
LM
MA
7 June
Professor Reiko Kuroda
Tokyo University of Science
LM
7 June
Professor Andy Boon
Tokyo Gakuen University
MA
8 June
Professor Masshardt
Musashi University
LM
Shimane and Osaka
Date
 
Theme
Speaker(s)
June 7, Thursday
 
Train/ Plane to Shimane (Paul and Yasser)
Paul and Yasser
June 8, Friday
Meeting with Professor Akira Deguchi (Vice-President & Director of Centre for International Exchanges)
Shimane University
Interviews with International teachers and students
Paul and Yasser
June 9, Saturday
Shimane University
Interview with International teachers and students
Paul and Yasser
June 10, Sunday
Travel to Kansai Gaidai
 
Paul, Yasser, Louise, Mariam
June 11, Monday
Kansai Gaidai
Interviews with International teachers and students
AFTERNOON
Team Meeting/ Discussion/ Publications/ the SRHE Conference/ future research bids/ the Sussex 2019 seminar/ the 2019 WERA/ Conference

Paul, Yasser, Louise, Mariam, Ryo

June 12, Tuesday
Kansai Gaidai, Room No. 7310
"Reforming the Doctorate" Discussion with students "Migrant Academics in and out of Japan"

Paul Roberts and Louise Morley

June 13, Wednesday
Doshisha
Interviews with International teachers and students
Paul, Yasser, Louise, Mariam
June 14, Thursday
Kansai Gaidai
"Student Well-Being in Higher Education"Discussion with students
Discussion with our Office, 11:00-12:00
Interview in Kyoto
"Gender Issues in Internationalisation"

Mariam
Paul
Mariam
Yasser

June 15, Friday
Kyoto University
Interview
LM
June 16, Saturday
Leaving Japan
 
 
サセックス大学からの来校者(関西外国語大学・7号棟)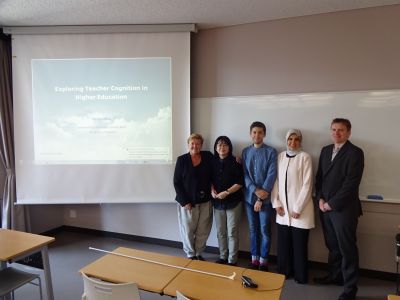 モーリー教授の出版された書籍の内容
本来高等教育の目的は、社会的には、批判的精神を持った市民を育て、デモクラシーを推進し、公平性を拡大することが目的であったが、過度な人的資本への投資や市場化、世界ランキング、競争的資金の獲得、といった経済的側面が重視され、教育に大きな影響を与えることになった結果、経済競争においてプラスをもたらす人間育成に焦点が当てられるようになった。そのことはとりもなおさず、大学ランキングを上げられない研究者や補助金獲得が出来ない研究者、名声を上げられない研究者は大学にとっては価値がなく、大学から去るしか道がない状況に彼らを追い込んでいる。そして、この問題は単に大学だけの問題ではない。企業や公的機関ですら同様の状況が起こっており、大きなプレッシャーの下、全ての人間が日々圧迫された生活を送っているのだ。留学生にしても、パートの海外からの労働者であろうが、優秀で価値ある者は受け入れられるが、単に学びたい、働きたいと望む学生の入学は拒否されがちである。
 我々研究者は、再度現状を捉え直し、この様な状態を改善し、是正していく必要があるのではないだろうか。

イギリス学概論の学生たちとCHEER所長のLouise Morley(中央)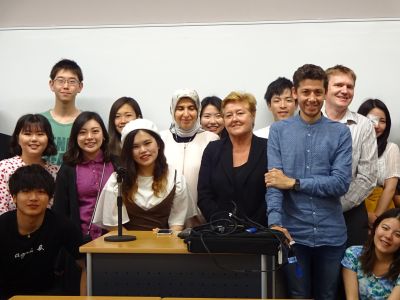 サセックス大学講師による講演を聞く学生たち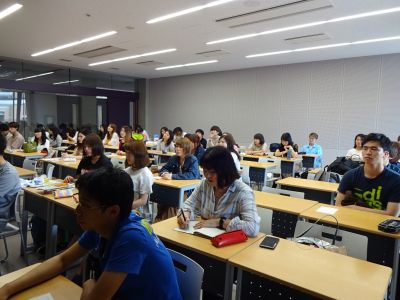 サセックス大学講師による講演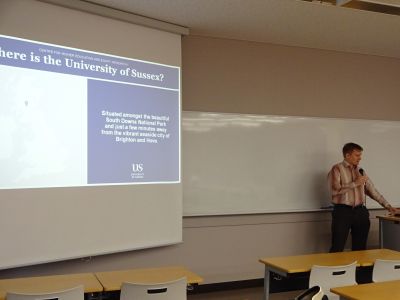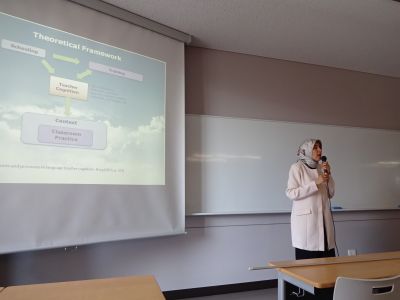 厚生南館でのランチ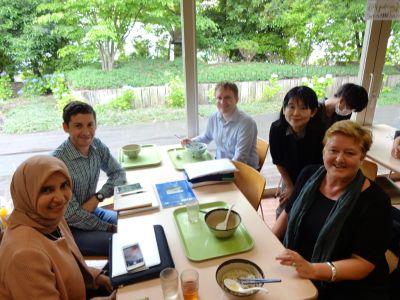 関西外国語大学ICCレストラン「Hamac de Paradis」での夕食